Description
A piece for the reconstructors of the Migratory period.

Pattern is ideal for those who would like to reevoke characters from the Late Antiquity and of course people from the Barbaricum, like: Huns, Langobards, Gepids etc.

Original piece:


Silk fragment with rows of horses
Eastern Iran
Lenght: 41 cm, width 48,5 cm
C14 dating: 435, +-45
reportedly from Samangan Provence, northern Afghanistan
Published: Carter/Goldstein 2013. cat. 100

The C14 dating places the original fragment to the Vth century. But relevant paralels allows us to use it in other Epochs as well. The base of the characteristics was used in the following centuries as well. Such as in this winged horse pattern Byzantine silk, where horses hacing each other in the same way in boths rows. One of their front legs in the air, as they elegantly steping forward. Even the ribbons attached to their heads and legs and the red background are identitical to our original pattern.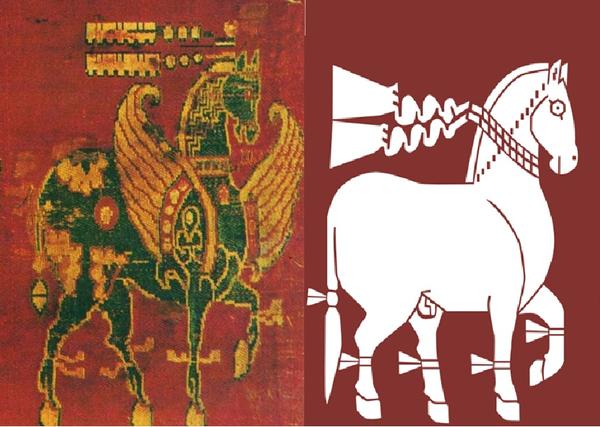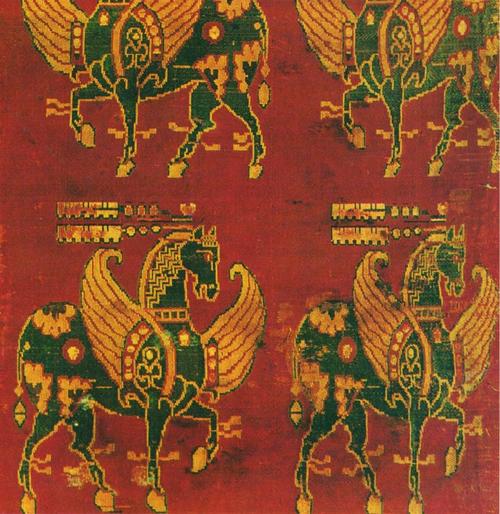 VIIIth century
Byzantine silk
Winged horses
Formerly in the treasure of the Sancta Sanctorum, where it was used as a cushion for the enamel cross of Pope Paschal (817-824).
Source: W. Fritz Volbach: Early Decorative Textiles. 1969

About the original piece:
Three rows of horses, facing in opposite directions, move in a horizontal procession across a cherry-red ground. there are no indications of a landscape. Running horizontally along the top of the silk fragment is a sharp fold marked by stiches from what was once a seam, indicating that this textile was probably part of a garment.

The elegant and well-fed horses all sport fluttering filets that are twisted around their necks and extend along the whole lenght of their bodies – a typical Sasanian motif signalling that these are not ordinary horses, and that the owner of the garment would have been high-ranking personage. Additionally, smaller ribbons adorn the horses' knees and the middle of their tails.

Along with the naturalistic depiction of the white horses, the deep, glowing red of the ground is striking. This particular dye tends to react very strongly to the effects of time and burial under ground, and easily loses its colour. Very often all that remains is an insipid brown.
The imposing appearance of a garment made from this textile is easy to onvision.
Source: Friedrich Spuhler: Pre-Islamic Carpets and Textiles from Eastern Lands (Al-sabah Collection)

Project requested by: Evan Schulteis, Nadeem Ahmad
Atrwork: Balázs Szakonyi

 
Reviews
There are no reviews for this product.